About Us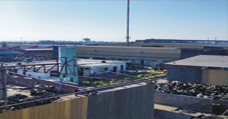 Kohinoor Reclamation & Eastman Reclamation offers a variety of Reclaim Rubber grades for use as tyre, Butyl Tube and non-tyre rubber products. Reclaim Rubber is an extremely effective and environment friendly source of rubber (without compromising on quality and versatility) from the end of life and/or factory waste of whole tyres, tread peelings etc. It is manufactured using the de-polymerization process, which results in Reclaimed Rubber – a product that can be used as a partial substitute for natural and synthetic rubber. We are one of the prestigious manufacturers and exporters of different reclaimed rubbers products. These products are used in different tyre, non-tyre rubber & Butyl Rubber applications and are available with us in customized options with industry standard.

Our product range has proven best & useful in a variety of applications in the tyre, non-tyre & Tube sector. Our strict adherence to International quality control standards, strict control on manufacturing processes, strict rule for raw material vendors and our ongoing commitment to Research & Development ensures that we deliver only the Best end-product.

We produce customized product, by not only quality but service as well. Our company having a team of highly professional, vastly experienced and Best in the field personals in every step. With a very clear vision Kohinoor Reclamations is placing itself as a future leader of the global market. Our aim is not to do business only but we will do quality business always. Our customer selection system will lead us to make leader in the near future. The reclaim rubber industry in India is a mix of small, medium and large scale manufacturers in organized and unorganized sectors, where we are one of the top and most acceptable in near future.

Kohinoors excellent reputation and its tangible achievements have been accrued from its visionary & dynamic team of Top management and other very experienced managerial structure who were instrumental in creating a strong bondage with customers supporting the company to grow in its quality and quantity continually.

"Kohinoor Reclamations & Eastman Reclamations" the name are now well known for Whole Tyre Reclaim & Butyl Reclaim among the manufacturers of tyre, Tube and various other rubber products in India and abroad.